Description
AuraSound Bass Shaker AST-1B-4 (Sold)
Are you getting all the bass you want? Not yet!
The AuraSound AST-1B-4 Pro Bass Shaker—also known as a butt shaker, or tactile transducer—works on the principle that low bass is mostly felt and not heard. Experience earth-shaking bass from all of your media: music, computer, movies, or video games. The AuraSound Pro Bass Shaker was designed originally for automotive applications in order to produce big car subwoofer bass without taking up valuable space in the vehicle's trunk. Pro Bass Shakers are ideal for convertibles and sports cars, or wherever installing a large car stereo subwoofer is not practical. They can also be used in the home to make your own movie or video game chair.
Easy to install, so you'll be shaking in no time
An AuraSound Bass Shaker simply mounts to the floorboard under the seat or to the bottom of a chair to send vibrations through the structure, enabling you to feel awesome bass. Each Pro version bass shaker handles 50 watts of power and produces more driving force than a standard shaker. Shakers connect to an amplifier like ordinary speakers do, so it's easy to use an array for larger surface areas like couches or love seats by utilizing a conventional series-parallel wiring configuration. AuraSound part number AST-2B-4. Sold and boxed individually and also available packed 16 units per case.
Just the facts, please…
Sub-bass that travels through solids instead of air
Want to feel your music? Connect a Pro Bass Shaker and experience every thump, thrust, and shake…the way bass sound was originally intended. Aura's patented technology preserves the sound pressure levels so there's no distortion while enhancing the bass energy delivered from your stereo. We're taking surround sound to another level…
Get all of the excitement your media can deliver
Bass Shakers from Aura Systems add the exciting dimension of feeling to the sights and sounds of video arcade games, movies, stage shows, and multimedia attractions! By actively converting bass sound waves into spine-tingling vibrations, Bass Shakers turn entertainment into a "moving experience"!
Bass Shakers bring coin-operated video arcade games to life by transforming a game's audio output into body-pulsing tactile sensations. With Bass Shakers installed into arcade seats or floor platforms, players can feel everything from a fighter's punch to the roaring engine of a Formula One race car.
You wouldn't pay full price to see half a show, would you?
In movie theaters, the action jumps off the screen, the soundtrack comes to life, and the entire experience is intensified. Bass Shakers hook up like a speaker and mount directly to a standard theater seat.
Installed in seats, tables, booths, floors of showrooms, and theaters, Bass Shakers provide audiences with a more complete entertainment experience. Las Vegas stage extravaganzas, hit Broadway musicals, and rockin' concerts virtually jump off the stage into the audience. Bass Shakers are ideal for bringing music, on-stage special effects, and laser shows to life.
Add value, thrills, and total satisfaction
For commercial applications, Bass Shakers turn up the revenue potential of any entertainment experience. Thanks to low purchase, installation, and maintenance costs, the Bass Shaker is a virtual winner in the race to provide affordable upgrades and enhancements to existing facilities.
Power handling: 25 watts RMS/35 watts max

Impedance: 4 ohms

Usable Frequency response: 20 to 100 Hz

Fs: 42 Hz

Force Nominal: 10 lbs. per ft.

Weight 2-1/2 lbs. each

Dimensions: 4-3/4″ diameter. x 2-3/8″ H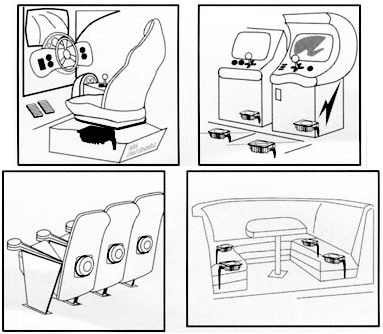 Can mount on sofa or bed creating a more immersive movie or gaming experience
Interested please contact :
Mr.Chia 013-338 0628 ( Whatsapp/Call )
We are specialist in BUY or SELL
Used Home Furniture/household appliances and New/Used Office Equipment
Show Room address : ( Near Tesco Puchong )
One Stop Buy & Sell Enterprise
No.15 Jalan Bandar 16,
Pusat Bandar Puchong,
47100 Puchong, Selangor
Office Hour :
9:00am – 6:00pm (Monday – Friday)
9:00am – 5:00pm (Saturday)